Today in the High Court in London, there is a legal challenge against the raising of the state pension age for women. This affects women in born in the 1950s and it's fascinated me for sometime due to the hypocrisy of it all.
Article from the BBC here. At the moment the case is still being heard. I am not in the legal profession – this is just an average persons point of view.
For a bit of background is that in the UK men used to get their pensions from 65 and women from 60. You had to pay into National Insurance for a number of years to get it (all). More recently, the government having realised how dangerous it is to guarantee a future pension amount to everyone (more or less) for possibly several decades. The future cost is huge and unfunded (except by future tax revenues). That burden is over £7 trillion from numbers of 2015 and is likely to only be higher now.
Demographics, rising life expectancy and lowering gilt yields have made the cost of servicing these onerous bullet prof pensions mushroom to make it a very big problem for future governments to have to deal with.
The increase in the state pension age for women (decided in 1995) gradually from 60 to 65 is to have gender equality in pensions and to reduce the tax burden of state pensions. The women against state pension increase (WASPI) and groups like back to 60 are against it because if you happen to be affected it means you'll lose out financially. The cause is well organised and is regularly mentioned in the press.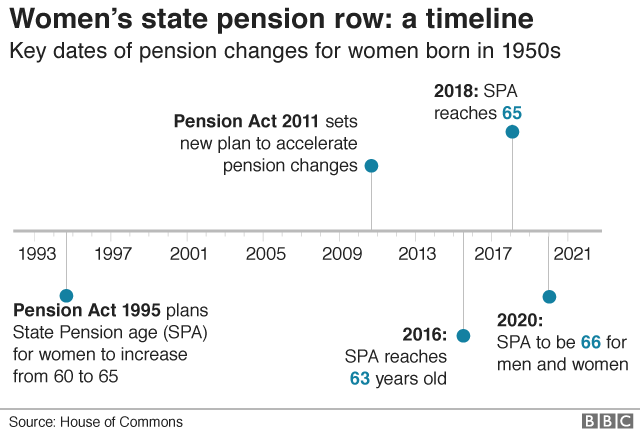 How to solve the pensions problem is hard to work out. Pensioners are a powerful voice politically and these Waspi women are even more so! In any political decision there will be winners and losers. If there are only winners, the humble (future) tax payer pays in the end.
Of course it's not fair that the goalposts were moved. I wouldn't want to have to wait an extra 5 years for my pension. But it's not a case of fairness. What really gets me is that they are not campaigning against the state pension age increase – I'll be 68 before I get mine (and that's a long way off) – but they feel that it's unfair that their slightly older peers got their's at 60 and they'll have to wait a bit. Their slogan is "back to 60" but as a narrow minded special interest group they are not campaigning for my pension age to go "back to 65". It's less a campaign for equality and more a campaign for the status quo. I'm calling out the hypocrisy – they are like pension NIMBYs.
Their campaign is quick to point out that many women were not aware that their pension age had increased and they aren't prepared for the shortfall that will come their way. I can understand their frustration but I don't think that ignorance and being unprepared is a good argument.
For a bit of boomer bashing, you could say that those born in the 1950s have benefitted greatly from commonplace final salary pensions, cheap houses when they were young, falling interest rates, more secure employment and rising pension incomes. By any measure you'd conclude that they are lucky compared to the silent generation that went before them or Gen X or Millennials who come after them (and have to pay for their massive net drain on public finances as they age).
How to pay for an ageing population is a critical question for future governments. It's as large a problem as Brexit or maybe comparable to Global Warming. Keeping the status quo isn't going to be enough and tough decisions must be made. My hope is that the spurious arguments of the waspi are not successful in derailing the steps the government have in curtailing pensions spending. The country is still running a deficit and the reality is that if you don't think about FIRE today, you might well be working long passed 68.
Anyway, back to work for me someone needs to earn money to pay taxes to allow entitled boomers enjoy their many years of taxpayer-funded retirement.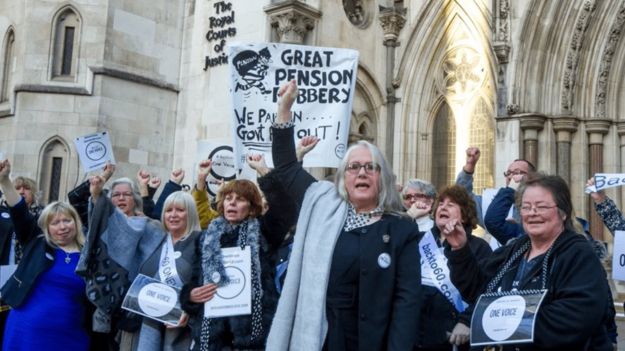 Image from the BBC
Thanks, GFF